Main Content Starts Here, tab to start navigating
Rocket City Tavern | American Restaurant in Huntsville, AL
Slide 1 of 5
Slide 2 of 5
Slide 3 of 5
Slide 4 of 5
Slide 5 of 5
Welcome to Rocket City Tavern, where people and history meet for great food & drink.
Rocket City Tavern is a restaurant and tavern concept located in the public access area at the Redstone Gateway in Huntsville, Alabama. Signature offerings include shareable appetizers, classic and innovative sandwiches, hearty salads, delicious entrees, and enticing homemade desserts.
Our vibrant bar features many local craft microbrews, along with popular wines and signature cocktails, featuring martinis and margaritas. Our unique bar is "open to the outdoors", perfect for relaxing inside or outside when the weather is nice.
We offer one of the best private dining options in the Huntsville area.
Promos
Deck the Hallways - Special Holiday Catering Menu
Treat your team to a holiday lunch they will love!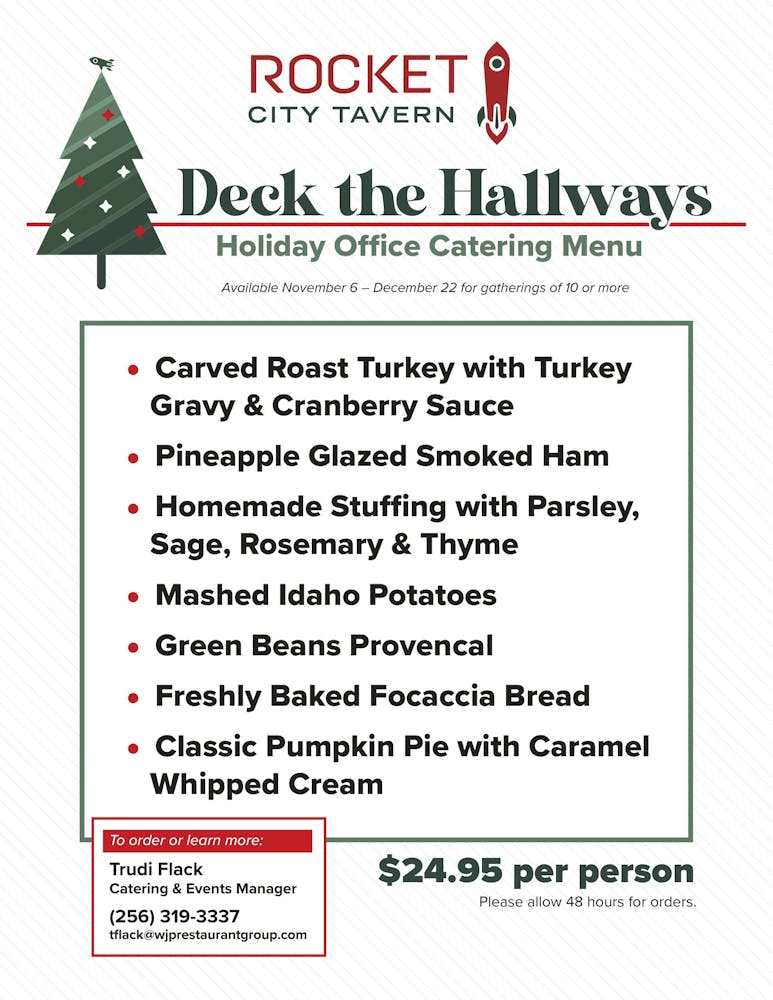 Monday Night Fun- Tacos, Tequila, and Trivia!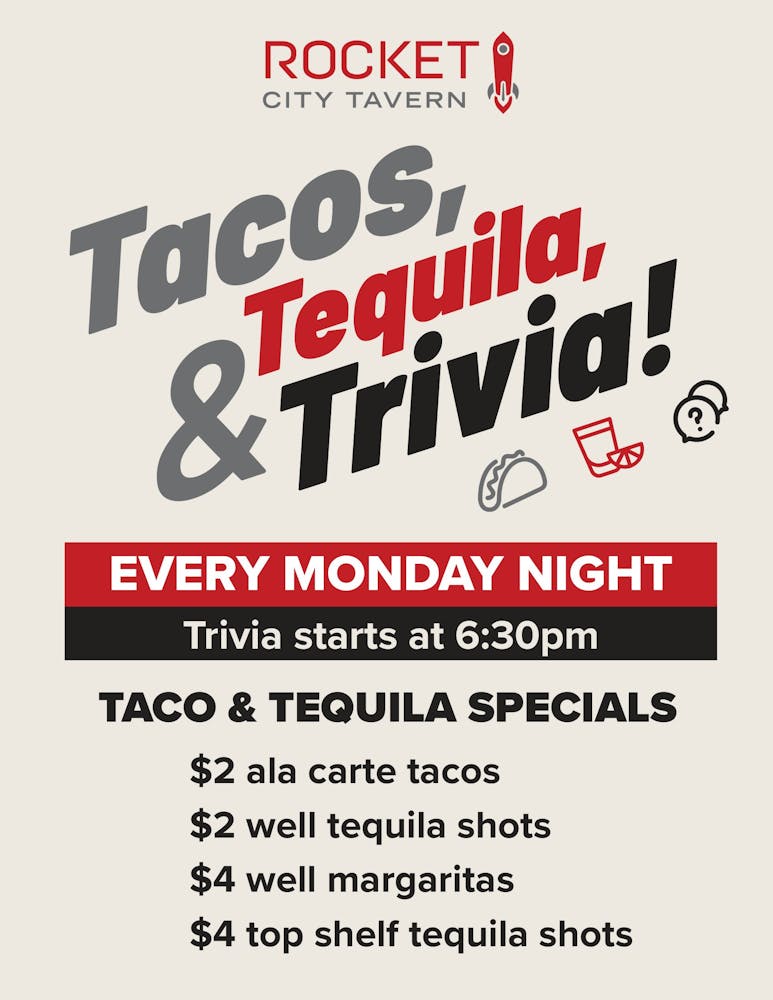 Happier Hours - 4-7pm Monday Thru Friday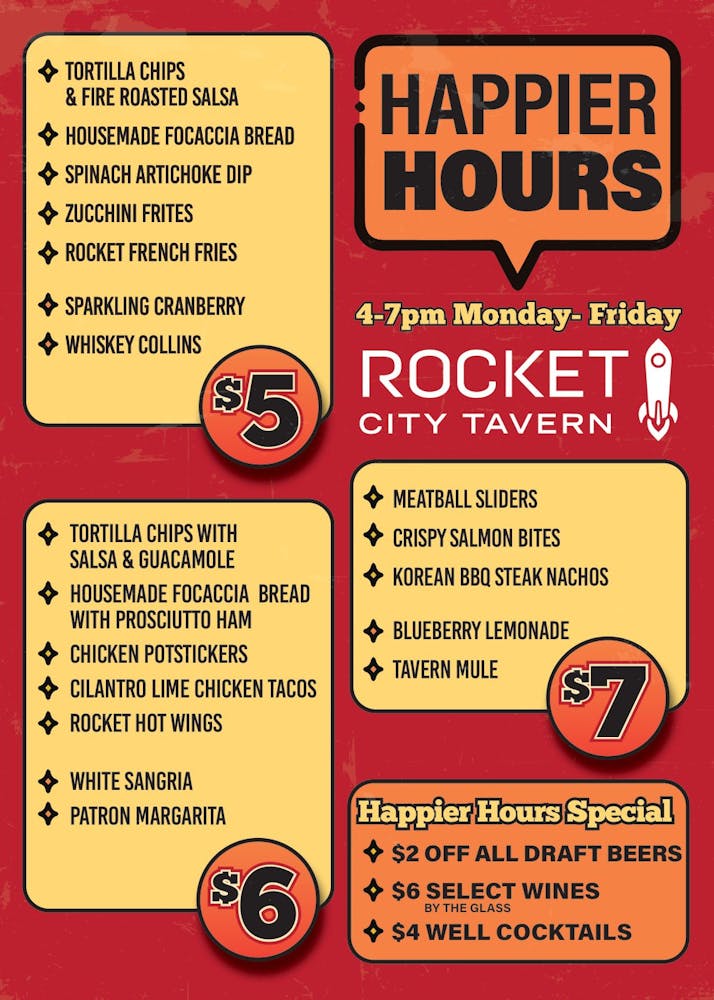 From an office lunch to an at-home celebration, we can help with your next event. We try our best to accommodate all requests, even last-minute opportunities.
To learn more, please contact Trudi Flack, our Sales & Events Manager at (256) 319-3337, or email Trudi at tflack@wjprestaurantgroup.com.
***DECK THE HALLWAYS - HOLIDAY CATERING MENU***
Treat your employees with an elevated holiday lunch!
Deck The Hallways Catering Menu
Customer Testimonial - Deck The Hallways Catering
Rocket City Tavern catered in a company gathering for 17 and everything was perfect! I opted for the Holiday Deck the Hallways spread that included ham, turkey, a seasoned stuffing , green beans to die for, and pumpkin pies with the most amazing whipped cream topping. I could not have been more pleased, everything was amazing, flavorful, beautifully presented and really contributed to making a small office gathering feel intimate and special.
Working with Rocket City Tavern in setting this event up was seamless and everything was executed perfectly, from the vast menu sections offered, ensuring that any detail was covered, to the delivery and setup. I will most definitely be using them again for any office events and most likely also for any personal events that I have at home!!!!
Thank you Rocket City Tavern for making a Holiday office gathering extra special for everyone.
Sarah L.
Rocket City Tavern is the perfect place to host your next event! Whether you are celebrating a birthday, business meeting, or a corporate event, we have the flexibility to offer an experience that is tailor-made to your needs.
To learn more, call us at Events (256) 319-3337.
NEW- Holiday Menu & the Rocket City Social
Our Holiday Event Menu is now available.
Looking to host a casual cocktail party with co-workers or friends? Our Rocket City Social package is the perfect solution for your group and budget.
WEDDINGS
We LOVE to help brides and grooms celebrate their love. Our flexible space is perfect for rehearsal dinners, showers, and even full wedding and reception events. Let our Chef Michael Northern craft the perfect menu for your special day!
Complimentary Wedding Ceremony Venue
When you book your wedding party with us, we will include our outdoor ceremony canopy space at no charge.
Food and beverage minimums apply.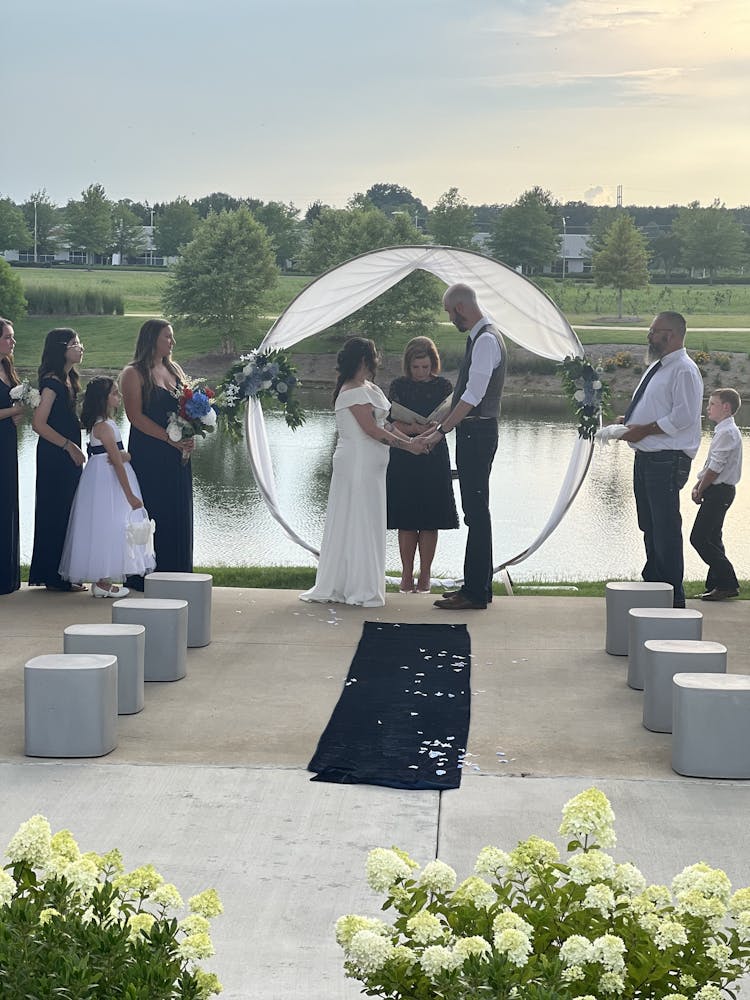 Contact Us
Send us a message and we'll get back to you as soon as possible. You can also reach us by phone at 256-319-3333. If you are planning a special event, please click here. We look forward to hearing from you.
Rocket City Tavern Rewards
Receive $10 in free food for every $100 you spend.